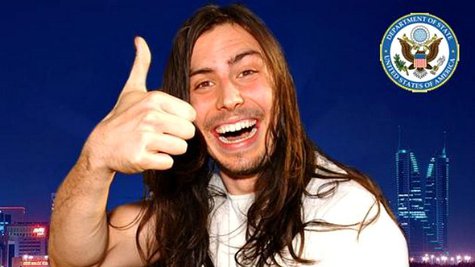 Andrew WK has been appointed as a cultural ambassador to Bahrain. At least, that's according to Andrew WK. The U.S. State Department, however, says not so fast.
In a message posted on Andrew WK's website Friday, the notoriously hard-partying singer declares that he's accepted a State Department invitation to travel to the Middle Eastern country of Bahrain in December to "promote partying and positive power." He goes on to say he'll visit "elementary schools, the University of Bahrain, music venues, and more, all while promoting partying and world peace." He concludes, "I feel very privileged and humbled by the chance to represent the United States of America and show the good people of Bahrain the power of positive partying. I can hardly wait for this adventure!"
If the idea of Andrew WK acting as an official cultural ambassador sounds odd to you, you're apparently not alone. A State Department spokesperson tells ABC News Radio, "While Andrew WK was invited to participate in a cultural speakers program in Bahrain, the embassy says that the program was a mistake and didn't meet our standards, so it was canceled."
Further confirmation came at Monday's State Department press briefing, when spokesperson Victoria Nuland said an entity in Bahrain approached the embassy about co-sponsoring an event with Andrew WK, which was initially approved. However, it was canceled upon further review by senior embassy staff, who decided it wouldn't be an appropriate use of U.S. funds.
Copyright 2012 ABC News Radio