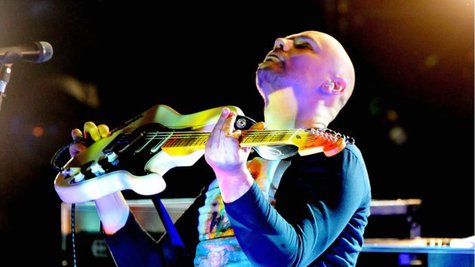 On December 3, The Smashing Pumpkins will continue their re-release program by putting out special editions of their 1995 album, Mellon Collie and the Infinite Sadness .
Frontman Billy Corgan says that Mellon Collie was about "capturing the spirit of the times" and not about making a perfect album. " Mellon Collie is weird in that it's a combination of nihilism, sentimentality and epic hope," the singer tells Rolling Stone . "That was where the generation was at that moment."
Corgan adds that the album was the appropriate creative "swan song" for the band's original lineup. "It really was the last time the four of us worked together in earnest," the singer tells Rolling Stone . "And maybe I picked up on that; maybe I sensed that and maybe that had something to do with the sort of the desperation and the approach to try and get as much as possible out of it."
Mellon Collie will be available in a variety of formats, including standard and deluxe digital versions and a vinyl package. All versions will include a remastered edition of the original album, while the deluxe versions will include 64 previously unreleased or alternate versions of Mellon Collie -era tracks. The physical version of the deluxe package will also include a live DVD documenting a 1996 concert at Brixton Academy in London, as well as a few performances the band made on the German TV series Rockpalast that same year.
Copyright 2012 ABC News Radio