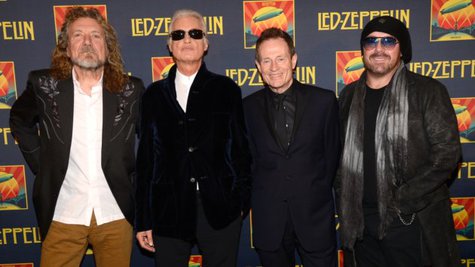 Led Zeppelin 's Celebration Day , the concert video and album documenting the band's December 2007 reunion concert at London's O2 Arena, hit stores this week. Jason Bonham , late Zeppelin drummer John Bonham 's son, who stepped in to take his dad's place at the historic show, says it's "a dream come true" for him that the performance finally has gotten its official release.
Speaking this past week with ABC News Radio, Jason admitted that "when it got to four years [after the concert], I was like, 'Oh, maybe this isn't gonna come out.' And then I found…a couple of months ago that it was coming out. So, it's been pretty emotional, but great, you know, fantastic."
Revealing that he felt "a warm glow" after watching Celebration Day , Bonham points out that one of the great things about the flick is that it captures numerous memorable moments that even the lucky people who were actually at the one-off event may have missed.
"[There's] the eye contact between us, the smiles, the laughter, the fun bits, that Jimmy [ Page ] grabbed Robert [ Plant ]'s stomach and, like, they're joking around and laughing," says Jason. "And it really is special. And to capture what they did -- and it's captured all those moments for the rest of the days -- it's a phenomenal achievement."
While Bonham has a hard time picking a favorite part of the show, he says one of the highlights for him was getting to sing with Plant on "Misty Mountain Hop."
"It wasn't like a small event. It was and will be for the rest of the days, that is me singing with him, the harmony," he laughs. "So, I just watched that and just suddenly kind of got my head around it and went, 'Am I really…singing with, like, a headpiece?' I look like something out of a Britney Spears set…It was very cool."
Led Zeppelin's three surviving founding members -- Plant, Page and John Paul Jones -- have been very forthcoming in commending Jason's performance at the concert. Bonham, who was only 14 years old when his father died in 1980, says the praise from the rock legend's holds special importance to him.
"Praise from any one of them, if I can't get it from my dad, that's as close as it's gonna be from a dad," he shares. "So, it feels like it's coming from a parent."
He then points to one particular scene from the concert when Plant, Page and Jones turn their backs to the audience and face him, smiling.
"They're looking at me, and they look like three proud parents," he says. "Somebody pointed that out and went, 'Look, they look like your three dads,' you know, going, 'He's doing alright…He had a rocky middle section of his life but he's come through it, and he is OK.' So, it was pretty cool."
Asked whether he was disappointed that Zeppelin didn't continue on with more reunion gigs after the O2 arena show, Bonham admits, "I could be frustrated but, [at] the same time, I'm very thankful that I was considered [to play with them] at all."
He adds, "Just 'cause I'm John Bonham's son doesn't guarantee me the seat, you know. This is big business. This is not just, 'We're gonna go and jam in a bar somewhere.' This was 'prove your worth.'"
Lately, Bonham has been touring the U.S. with his own tribute outfit, Jason Bonham's Led Zeppelin Experience , which, he tells ABC News Radio, was directly inspired by his time playing with the real Zeppelin. The group winds down its current trek Tuesday night in Milwaukee.
Copyright 2012 ABC News Radio