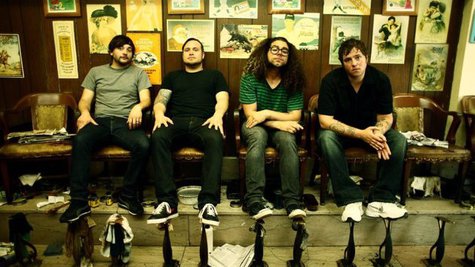 On Friday, Coheed and Cambria premiered the video for " The Afterman ," the title track from their concept double album.
The storyline revolves around The Afterman's wife, Meri, who watches from the beach as her husband's spaceship explodes over the ocean. Meri sees The Afterman, aka Sirius Amory, fall into the water and rows out to pick him up. The two spend some time together before Meri falls asleep and Amory sinks into the ocean and disappears.
While the second installment of the double album, The Afterman: Descension , is set to be released on February 5, 2013, the band will release a vinyl album, The Afterman: Ascension (Big Beige Demos) , on November 23 for Record Store Day. The collection of demos features mostly acoustic versions of each song from The Afterman: Ascension which were recorded in frontman Claudio Sanchez 's home studio.
Track list for The Afterman: Ascension (Big Beige Demos) :
"Domino the Destitute" (Demo)
"The Afterman" (Demo)
"Mothers of Men" (Demo)
"Goodnight, Fair Lady" (Demo)
"Holly Wood the Cracked" (Demo)
"Vic the Butcher" (Demo)
"Evagria the Faithful" (Demo)
"Subtraction" (Demo)
Copyright 2012 ABC News Radio