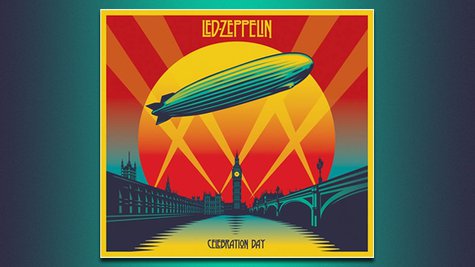 Led Zeppelin 's Celebration Day is almost here. The audio and video collections documenting the legendary band's one-off, December 2007 reunion concert at London's O2 arena hit stores on Monday. The 16-song set is available on CD, DVD and Blu-ray, packaged in various combinations.
Guitarist Jimmy Page talked about the historic show during a recent BBC television interview . He noted that the band members, who hadn't played together in many years, worked hard to prepare for the performance.
He pointed out, "We needed to play in such a way that we all had the confidence with each other, no matter what, and that needed playing and sort of getting to know each other again musically."
Page also talked about how closely he and his band mates paid attention to each other during the concert.
"There were areas of improvisation where we needed to sort of nod to each other to give the cues," he explained. "It's a working band. It's creating as it's playing as time's going on during the set."
The guitar great recalls that there were many high points during the gig, but one that particularly stood out for him was "Kashmir," which he said "took on a whole ethereal energy to it." He added, "You could just feel the whole lift in yourself and in the auditorium."
Meanwhile, Page revealed that he has plans to start a new project with some as-yet-unnamed collaborators in 2013. Seeming apprehensive to divulge too much information about the project, he did say, "I haven't pulled my musicians in [yet], but I will be in the New Year, and then we'll see what we shall see…I'm prepared [and] I've got a lot of material for this."
Copyright 2012 ABC News Radio