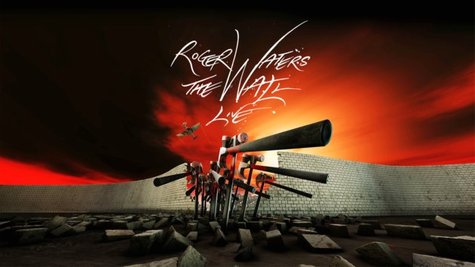 Roger Waters officially announced plans to bring his The Wall Live Tour to European stadiums this summer at a press conference held Wednesday morning in London. The media event kicked off with a short film revealing details about the trek, which is plotted out from a July 20 concert in Werchter, Belgium, through a September 21 show in Paris.
The former Pink Floyd singer/bassist then answered questions from reporters in attendance, as well as from fans who submitted queries online.
Regarding the larger scale of the stadium shows in comparison to the arena concerts he's played recently, Waters notes, "There's something about connecting with that many people outdoors, which is actually extremely gratifying…It's just a bigger community."
Water also explained that he's hoping to meet with various government officials during the tour, like he did when he visited South America in early 2012.
Not surprisingly, the Rock and Roll Hall of Famer was asked if there was a chance that his ex-Pink Floyd band mate, David Gilmour , might join him to perform during the trek, as he did at Waters' May 2011 concert at London's O2 Arena.
"I don't think so. No," he admitted. "I haven't had any conversations with David about that. I think it's extremely unlikely. I think, by and large, David's retired, as far as I can tell. But you would need to ask him that." Even so, Waters implied that he remains open to playing with Gilmour again.
Waters also shared a little about his plans to record a new album based around a new song he recently wrote, titled "Heartland." The singer -- whose last full-length rock record, Amused to Death , came out in 1992 -- explained why he's taken so long between releases.
"I hadn't found a central kernel of an idea around which to hang a new piece of work," he noted, "and I think I've discovered that now in this new song, but I don't really want to give it away."
You can watch a video of the entire press conference, and check out all of the upcoming Wall Live Tour dates, at RogerWaters.com .
Copyright 2012 ABC News Radio