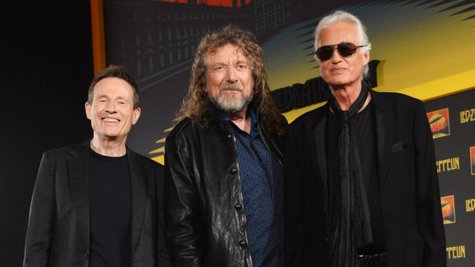 With Led Zeppelin set to release its Celebration Day reunion concert video and CD on Monday, Jimmy Page has once again put a damper on fans' hopes that the band might get together again. The guitarist appeared on the latest episode of the U.K. performance series Later with Jools Holland and, not surprisingly, he was asked by the host about the possibility of another Zeppelin concert.
"We're almost five years after the O2 [Arena] concert," he noted, "and I must say that I thought there might be some other sort of get-together for some reason or another, but as the years ticked by…it doesn't look very likely, does it?"
Page also shared how he felt during the reunion show, which took place in London in December 2007 as the finale of a tribute concert to late Atlantic Records founder Ahmet Ertegun .
"It was very powerful on stage," he said. "It had serious moments. Even when we came back to look at it, it was like, 'Wow.'"
In other news, a new TV ad promoting the release of Celebration Day and a high-definition clip from the concert film showing Led Zeppelin performing its classic tune "Black Dog" have been posted online.
Copyright 2012 ABC News Radio