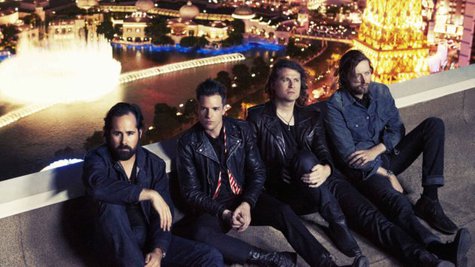 The Killers disappointed their fans in the U.K. on Tuesday night after they prematurely ended their concert at the Manchester Arena. Frontman Brandon Flowers was forced to end the show due to vocal problems.
"I'm sorry I've never had to do this before but we've gotta stop," Flowers told the crowd. "I can't sing…I don't know what else to tell you. I'm sorry. I know it's frustrating for you and I'm sorry. I promise that we will come back." Fan-filmed footage of Flowers' apology to fans is posted on YouTube. According to NME , the band had performed only four songs.
Shortly after the incident, the band canceled their second show at the Manchester Arena, which was set to take place on Wednesday. The band posted an apology on their Facebook page and noted that they will make up the concerts in the near future. "Manchester, we started something we couldn't finish and we're so, so sorry," said the band in a joint statement. "Working on rescheduling tonight and tomorrow's shows. Will let you know new dates ASAP."
The Killers next scheduled performance is at the O2 Arena in London on Friday.
Copyright 2012 ABC News Radio