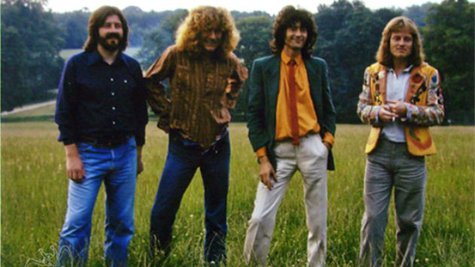 Two Led Zeppelin songs will be featured in the new NBC show Revolution . "Kashmir" and "Since I've Been Loving You" will be heard in next week's episode of the post-apocalyptic drama.
The airdate is Monday, November 19 -- the same day that Led Zeppelin's Celebration Day concert album and companion DVD will be released.
Led Zeppelin rarely lends its music to such projects, but the band struck a deal with Warner Bros. Television to allow the songs to be featured. Eric Kripke , creator and executive producer of Revolution , says he's thrilled to have the rock legends' music in the program.
"Anyone who really knows me knows how obsessed I am with Led Zeppelin," says Kripke. "So the fact that the band agreed to put two songs in my show is, very seriously, a career high-point."
A Zeppelin/ Revolution promo spot premiered on Monday night and will air on NBC throughout the week leading up to the episode, which will be entitled "Kashmir." In addition, an extended version of the ad will be made available via the network's website.
Copyright 2012 ABC News Radio