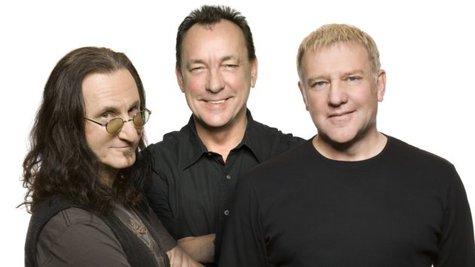 Rush will be honored later this month with induction into Guitar Center's RockWalk in Los Angeles. The renowned Canadian power trio will be feted at noon PT on November 20 at the instrument retailer's Hollywood franchise on Sunset Boulevard. An as-yet-announced guest star will deliver a speech about Rush before introducing the band at the ceremony.
"We are very pleased to have been chosen by our peers and fellow musicians for induction in Guitar Center's RockWalk," says Rush frontman Geddy Lee . "It is an honor to have our names added to this illustrious list of great and highly talented musicians."
RockWalk chairman Dave Weiderman , meanwhile, praises Rush for "consistently deliver[ing] skilled musicianship, experimental drive and stylistically diverse rock to music fans worldwide."
Among the many previous inductees into the RockWalk are Eric Clapton , Carlos Santana , Jimmy Page , Aerosmith , Van Halen , AC/DC , Johnny Cash , James Brown and B.B. King .
Rush currently is in the midst of a U.S. tour in support of its latest album, Clockwork Angels . The trek is scheduled to wind down with a December 2 show in Houston. The RockWalk induction takes place a day after the prog-rock legends' concert in L.A.
Copyright 2012 ABC News Radio