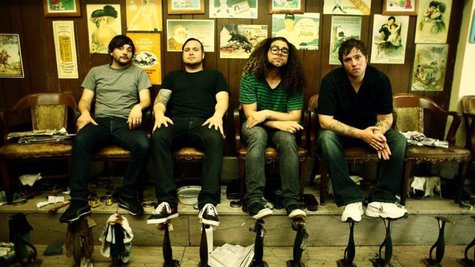 Coheed and Cambria frontman Claudio Sanchez has revealed that the songwriting process for the band's double album, The Afterman , was different from any other album the band has made. The singer says that instead of developing songs to go along with a story, he decided to create a story around the tracks he penned for Afterman .
"With those [other] records I always kind of understood what story I was going to tell," Sanchez tells ABC News Radio. "With Afterman , there was no concept, I allowed the songs to really tell me what they wanted to be in terms of that world and really inspire what would become The Afterman story."
The singer adds that he's looking forward to developing the band's ongoing sci-fi tale, Amory Wars , into a live-action feature film with Mark Wahlberg 's Leverage Productions. "At the moment, it's really just a partnership between Amory Wars and Leverage," explains Sanchez. "It's just these two worlds kind of coming together, and together we'll try to make that become a reality. It's really just kind of in the beginning stages. It's kind of exciting, we'll see what happens."
You can expect the second installment of the album, The Afterman: Descension , to arrive in stores on February 5, 2013. It will be supported by a six-week stretch of tour dates focusing on smaller, intimate venues.
Copyright 2012 ABC News Radio