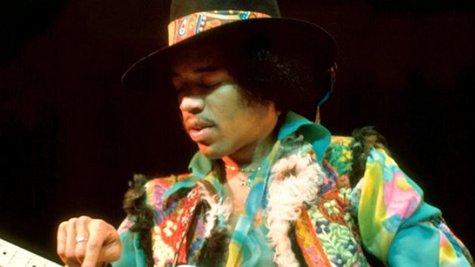 A new line of official Jimi Hendrix men's clothing items and jewelry will be sold exclusively at Bloomingdale's stores around the U.S. starting early this month.
The launch of the collection is timed to coincide with what would have been late guitar legend's 70th birthday; Hendrix was born on November 27, 1942. The line, designed by Lyric Culture, includes T-shirts, dress shirts, hooded sweatshirts, scarves and cuff links boasting lyrics written by Hendrix.
To celebrate the debut of the collection, a special interactive kiosk featuring examples of Hendrix's handwritten lyrics will open at Bloomingdale's flagship store on 59th Street in New York City on Thursday. The display is being loaned to the store by Seattle's Experience Music Project museum.
Also on Thursday, Jimi's sister and Experience Hendrix CEO Janie Hendrix will pay a visit to the store. From 6 p.m. to 8 p.m. ET, Janie will be signing copies of the just-published Jimi Hendrix: The Ultimate Lyric Book , which she compiled. The 304-page tome features the words to all of Hendrix's classic songs, as well as many never-before-seen photos, including rare images of lyrics written in the lauded musician's own hand.
Joining Janie at the event will be bassist Billy Cox , who played with Jimi in both The Jimi Hendrix Experience and Band of Gypsys . Following the Hendrix collection launch, Cox will be performing at New York City's famed Iridium jazz club this Saturday and Sunday. The veteran musician will play to shows each night, at 8 p.m. and 10 p.m. ET.
Copyright 2012 ABC News Radio