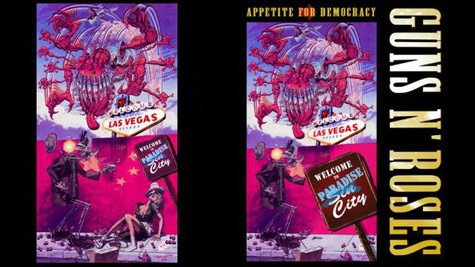 A series of ads for Guns N' Roses ' current Las Vegas residency at The Joint at the Hard Rock Hotel & Casino is being altered following an outcry from a variety of groups that deemed the image featured on the promos offensive. The advertisement includes a painting based on the original cover art for GN'R's 1987 debut album, Appetite for Destruction , depicting a disheveled, partially clothed woman who apparently has just been raped by a robot.
In a statement issued on Friday, the Hard Rock Hotel & Casino says it "regrets that the Guns N' Roses advertising for their current shows has offended any member of the community. The resort has decided to further modify the art and began the process of changing the materials earlier today."
In the revised poster, the image of the assaulted woman has been removed entirely from the ad. The move came after the hotel received complaints from officials of Nevada's Clark County and local rape crisis groups, who suggested that such an image objectifies women and potentially promotes violence.
"This type of advertising is simply unacceptable," Hannah Brook, executive director for The Rape Crisis Center, told The Las Vegas Review-Journal . "Not only for just the victims and the message of violence it brings, but also for the community in general."
While the promo is being changed, the original image reportedly had been plastered throughout the city -- on billboards, taxis, buses, hotel key cards and more -- since before the band's series of shows kicked off on October 31. Guns N' Roses Vegas residency, dubbed "Appetite for Democracy," runs through a November 24.
Incidentally, shortly after GN'R released Appetite for Destruction with the "robot rape" cover, complaints from record stores prompted the band's label to change the cover art, with the offending image being moved to the inside of the album.
Copyright 2012 ABC News Radio