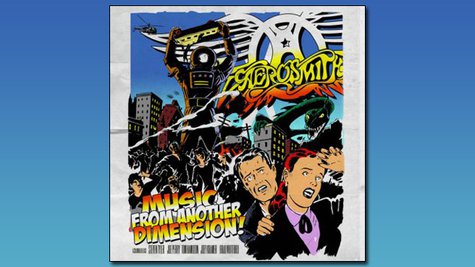 The long wait finally is over for Aerosmith fans, as Music from Another Dimension! , the band's first studio album of new material since 2001, arrives in stores Tuesday. The record finds the veteran rockers revisiting the different stylistic phases they've delved into over the years, from raw blues rockers to catchy pop-rock tunes to soaring power ballads.
The band's five members recently chatted with the press about the new album, which they all feel proves that Aerosmith is again at the top of its game. Frontman Steven Tyler says he was glad to see that the group can still create such engaging songs.
"We came up with some good stuff," he declares. "You listen to this and you go, 'Oh my God, these guys are back.'"
Tyler says the quality of Music from Another Dimension! can be attributed to the fact that the band worked long hours as a unit while putting the album together. In addition, he credits producer Jack Douglas , the man behind Aerosmith's classic early recordings, with helping the rockers stay focused.
"We got Jack and we sat in a…real small room with acoustic guitars and everybody threw in," he recalls. "We had a tape recorder in the middle, and it was one of the best times we ever had. One day we'd get something, the next day maybe not. It's like fishing. We would love to say, 'We're going in until we can't handle the smell anymore. No one's getting out 'til we got a song.'"
Drummer Joey Kramer also tips his hat to Douglas, who, he says, "really steers the ship, but anybody can come up with any idea and he'll help us turn it into something."
Much has been said in the media about the conflicts between Tyler and the other band members, which were partly responsible for the project's delay and nearly led to the group's breakup. Guitarist Brad Whitford notes that he's come to really appreciate the talent that exists in Aerosmith, as well as the chemistry and bond that he and his band mates share.
He admits, "We take it a little bit for granted and we know each other so well, but it's really a great group of musicians and artists that anybody else would rip off a limb to come work with any one of us. And sometimes we sort of forget."
The standard version of Music from Another Dimension! features no less than 15 tracks, while additional tunes appear on deluxe and international releases. Regarding why the band decided to include so much material on the collection, guitarist Joe Perry explains, "We're thinking, 'This is, like, our heart…and these songs belong out there.' I [didn't] want to wait another year or two years for this song to come out just because you're supposed to put 10 songs on a record."
Find out more about Music from Another Dimension! at AeroForceOne.com , and visit Columbia Records' page at Vimeo.com to watch a multiple part Web series about the making of the album.
Copyright 2012 ABC News Radio