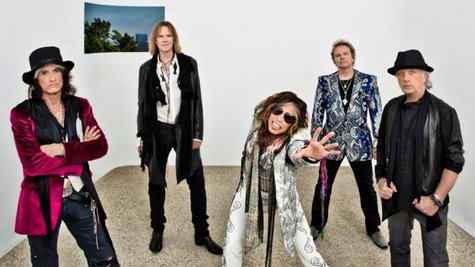 Thousands of Aerosmith fans crowded the streets of Boston on Monday to watch the legendary rockers play a free concert celebrating the arrival of their latest album, Music from Another Dimension! , which hits stores on Tuesday. The band performed on a stage set up on a flatbed truck in front of 1325 Commonwealth Avenue, the apartment building where they lived during their early years together.
To kick off the festivities, the group was introduced by New England Patriots owners Robert and Jonathan Kraft , who were joined by the team's star quarterback, Tom Brady , and linebacker Jerod Mayo . The NFL luminaries presented Aerosmith's five members with autographed Patriots championship footballs. Before the show got under way, frontman Steven Tyler announced to the crowd, "Thanks for coming out to where we once came from."
Then, at about 12:40 p.m. ET, Aerosmith launched into an inspired nine-song set that started with "Walkin' the Dog" and "Mama Kin," two tunes from their self-titled 1973 debut effort. The band went on to play a handful of its classic songs, as well as a couple of selections from the new album. Among the many highlights were rocking renditions of "Back in the Saddle" and "Walk This Way."
During the concert, Tyler joked with a group of residents watching the set from the group's old apartment and flirted with a group of pompom-wielding Patriots cheerleaders in front of the stage. The singer also gave a shout-out to Boston mayor Thomas Menino , who has been suffering from various health problems.
As the concert came to an end, confetti rained down on the onlookers as Tyler declared, "This is where it started, this is where it will never finish from. There is no finish line for this band."
The entire show was streamed live online and aired on the AXS TV channel, formerly HDNet. Fans who missed the event can watch it now on-demand at Aerosmith.com and AeroForceOne.com . In addition, an encore screening will be shown on AXS TV tonight at 9 p.m. ET .
Aerosmith kicks off a new North American tour leg in support of Music from Another Dimension! this Thursday in Oklahoma City.
Here is the full set list from Aerosmith's free Boston concert:
"Walkin' the Dog"
"Movin' Out"
"Mama Kin"
"Lover Alot"
"Back in the Saddle"
"Sweet Emotion"
"Walk This Way"
"Oh Yeah"
"Train Kept A-Rollin'"
Copyright 2012 ABC News Radio