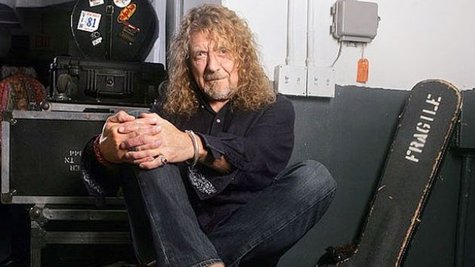 Led Zeppelin fans hoping for something new from the band likely will have to be content with the soon-to-be released Celebration Day videos and CD that capture the rock legends' 2007 reunion concert at London's O2 Arena. However, it appears that some fresh solo music could be on the way soon from frontman Robert Plant .
Buddy Miller , who played guitar on and co-produced Plant's 2010 album, Band of Joy , tells Rolling Stone that he and the singer have recorded about an album's worth of new material that could be released in the not-too-distant future.
Miller says the impromptu sessions took place last year at his Nashville home studio when Plant visited him to work on writing some new tunes.
"We didn't mean to, but we sort of wrote a record's worth [of songs], and I said, 'While we're doing this, why don't I put up some mics and document it,'" notes Miller. "And it sounded so good I think we, you know, accidentally made a record."
Miller says the tracks aren't completed, while pointing out that they are a bit different from the tunes featured on Band of Joy .
"If the last record might be pastoral, parts of it, [this one's] much more tribal," he explains. "It's much more urgent and tribal and, dare I say, rockin'!"
As for when Plant's new album might arrive in stores, Miller points out that because the rocker currently is busy promoting Celebration Day , "it's going to be next year before [the record] sees the light of day, that's what we're talking about."
Copyright 2012 ABC News Radio