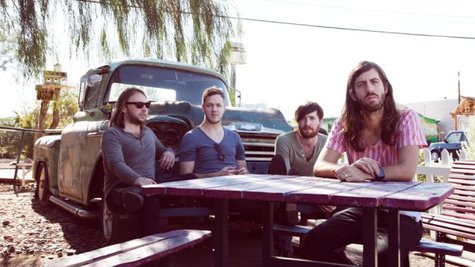 Imagine Dragons are still riding high from the success of their full-length debut album, Night Visions , which grabbed the #2 slot on the Billboard 200 album chart its first week out. Frontman Dan Reynolds says that the while the band has been making music since 2008, they waited until the time was right before releasing their debut album.
"We put out four EPs, you know, which I think is a little unusual for a band before they do their debut album," Reynolds tells ABC News Radio. "We did that because we were very wary of doing our full-length album before we felt mature enough as a band to do it. And for some bands, maybe they feel that in their first month. For us, it was three years until we felt confident enough to go in and do a debut album."
Reynolds adds that his decision to wait several years to release Night Visions was inspired by his own experiences listening to debut albums from artists he admired. "So many of my favorite bands that I love, their first album was like my favorite," explains the singer. "The first album was just so important because it defines what that band is and who they are defined as to the public. And so, we really wanted to take our time to make sure that we were ready to do this album."

Imagine Dragons are currently on tour overseas, but they'll return to kick off the next leg of their North American tour on November 28 at the Constant Convention Center in Norfolk, VA.
Copyright 2012 ABC News Radio