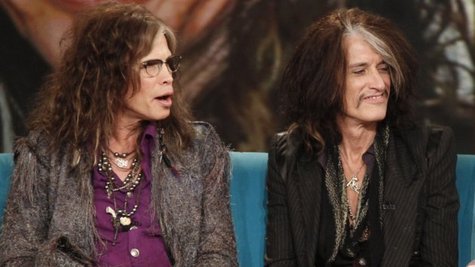 Aerosmith has been making the rounds in New York City this week chatting with the media about their new studio album Music from Another Dimension! , which hit stores this Tuesday. On Friday morning, following the band's appearance on NBC's Today , frontman Steven Tyler and guitarist Joe Perry headed over to ABC studios to talk with the ladies of The View .
Music from Another Dimenson! includes contributions from a number of guest stars, including an appearance by Johnny Depp , who lent backing vocals to the song "Freedom Fighter." Perry reveals that the collaboration came about because he wanted to borrow some guitars from Depp -- who's an avid collector -- so he invited the Hollywood heartthrob to come down to Aerosmith's recording sessions.
As the rocker recalls, "He came down the studio, hung out while we were working on a couple of the songs and, as the night rolled on, till like two or three in the morning, and it was time to do background vocals, we said, 'Come on in the room and sing.'"
Tyler and Perry also were asked what some of their Aerosmith favorite songs of all time were. The flamboyant frontman chose "No More No More" from the group's classic 1975 album, Toys in the Attic , and "What It Takes" from 1989's Pump . Perry, meanwhile, says that while thinks "What It Takes" is good, he also likes "Let the Music Do the Talking," from 1985's Done with Mirrors . The guitarist points out that the tune "says a lot about what the band stands for."
Aerosmith has experienced some ups and downs and interband conflicts over the years, yet the original lineup has stayed together for most of the 42 years since the group's formation.
Perry says he thinks Aerosmith has endured because of "a vision that we had when we got together and we wanted to play together, and it just was one of those meetings. You know, the stars -- whatever you want to call it."
One other topic covered during Tyler and Perry's appearance was the origins of one of Aerosmith's most beloved songs, "Dream On."
Tyler recalls that he wrote the tune on a pump organ at his family's summer home in Sunapee, New Hampshire. He remembers that he had a hard time reaching the instruments pedals, which resulted in him coming up with a pattern of alternating notes.
"The first thing I could think of to sing over it was 'dream on,'" he explains.
Copyright 2012 ABC News Radio