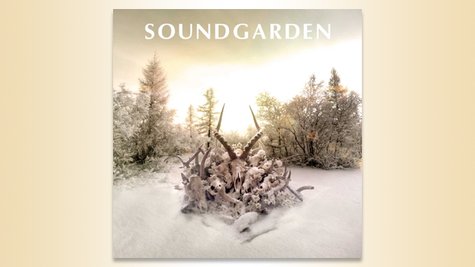 Soundgarden has just announced some special configurations of their first album in 15 years , King Animal . In addition to releasing a standard CD, the band will drop a deluxe edition, an iTunes version and a box set.
The deluxe CD version and digital deluxe version of the album will feature the standard album's 13 tracks, as well as demos of "Worse Dreams," "Black Saturday," and "By Crooked Steps." The iTunes deluxe version contains everything from the digital deluxe issue, along with an additional demo of "Halfway There."
In addition, Soundgarden has put together the King Animal Box Set , which features a vinyl copy of the album, a deluxe CD version of the release, an exclusive live DVD of the band's performance in Hyde Park, and five exclusive lithographs. That package is slated for release on January 31, 2013. You can pre-order the box set now at the band's website .
In other Soundgarden news, they've posted a stream of another cut from King Animal , " Non-State Actor ," on YouTube. The video features the song accompanied by black-and-white footage of an American flag flapping in the wind.
Copyright 2012 ABC News Radio