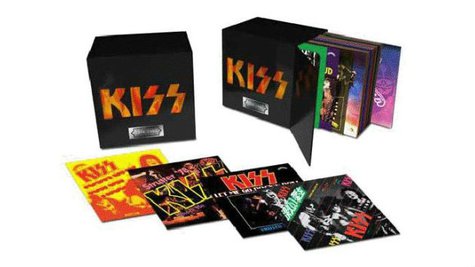 A limited-edition box set featuring replicas of the 29 vinyl seven-inch singles KISS released on the Casablanca Records label during the band's early years will be available for purchase starting on December 4 . The Casablanca Singles 1974-1982 features a variety of 45 rpm discs, most of them packaged in collectible picture sleeves, and housed in a specially designed custom box. The rock legends are releasing the set to commemorate their upcoming 40th anniversary.
Many of the recordings in the collection boast mixes and edits that differ from the versions included on the band's corresponding studio albums. Four of discs are facsimiles of the solo singles that KISS' Gene Simmons , Paul Stanley , Ace Frehley and Peter Criss issued in the U.K. in 1978, which come in colored vinyl and feature masks of each band member. The box set also includes a 36-page booklet with rare photos and information about each single.
"Even I haven't heard some of this stuff, but this is all part of our master plan to celebrate KISS at this milestone in our careers," says Simmons in a statement. "This box set represents us at the very beginning of our career, and documents the band's early success and subsequent growth."
Stanley adds, "This collection is meant for the true KISS aficionado. The packaging really captures the development of both our music and image at a very crucial period in the band's history."
A CD version of The Casablanca Singles 1974-1982 set also will be released at the same time as the vinyl box. Check out the collection's complete track list at UniversalMusicEnterprises.com .
Copyright 2012 ABC News Radio