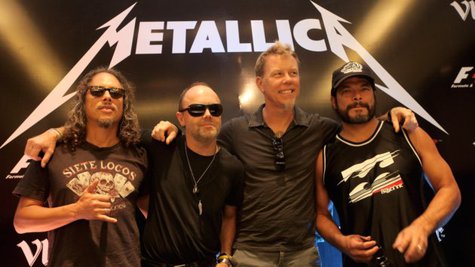 More than 80 guitars autographed by Metallica , Aerosmith , Green Day , Anthrax , Slayer and many other stars are among the items that will be up for bid at an upcoming auction in Los Angeles. The Icons & Idols Rock 'n' Roll auction will take place December 1 and 2 at the Beverly Hills gallery of Julien's Auctions, while bids also will be accepted online.
In addition to the guitars, the sale includes instruments that have been either played or autographed by founding Pink Floyd singer/bassist Roger Waters , former Guns N' Roses guitarist Slash , plus U2 and Def Leppard . The auction also features a pair of Converse tennis shoes that U2 guitarist The Edge wore throughout the band's U2 360 Tour, as well as a number of signed items by Led Zeppelin frontman Robert Plant .
In all, more than 450 items will be up for bids. Proceeds raised by the sale of many of the collectibles will benefit various charities supported by the artists.
You can see the items at the Julien's Auctions gallery from November 19 to November 30. For more information, visit JuliensAuctions.com.
Copyright 2012 ABC News Radio