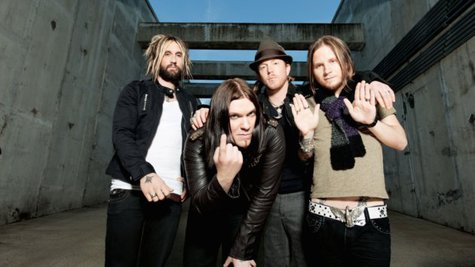 On Tuesday, Shinedown released their fourth studio album, Amaryllis . In an interview with ABC News Radio, frontman Brent Smith says that the title was inspired by a unique desert flower of the same name.
"The reason we named it Amaryllis is because it's all about destiny," explains Smith. "It's all about perseverance and about rising above and blooming in front of the world and being an individual and being a visionary and showing the world your true colors. That's what it represents because it's a flower that grows in the desert in a time of the year when there's really not a good explanation as to how it grows and how it looks so strong."
In addition, Smith revealed why it took the band four years to create the new album. "We're not known for doing records really fast for a reason," says Smith. "We spent all of 2011 working on Amaryllis , specifically because we had a very focused idea as to what we were gonna do going in. We wrote 33 songs. We're not trying to make The Sound of Madness part two or Us and Them part two or Leave a Whisper part two. We're not into copying ourselves."
The singer added that the recording process for Amaryllis allowed the band to explore new creative avenues. "Every idea was explored, nothing was turned down," notes Smith. "Everything was looked at from a very objective point of view but also from a very creative point of view. I pushed everyone really, really hard on this record and they all rose to the occasion. I think that we got closer as a band, we got closer as songwriters, we got closer as business partners, but ultimately it's just a fierce, fierce album."
In addition to buying Amaryllis , you can also pick up a 75-page interactive ebook titled FOR YOUR SAKE: Inside the Making of Shinedown's Amaryllis , which features previously unreleased photos of the band as well as video interviews and commentary from Smith.
Copyright 2012 ABC News Radio