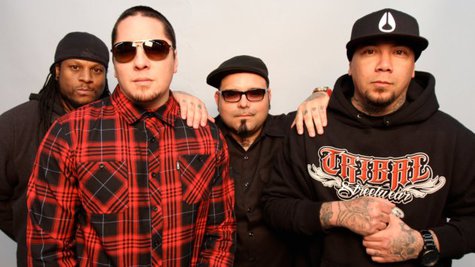 P.O.D. is getting ready to hit the road. The band has announced their first batch of tour dates in support of their forthcoming studio album.
After the band makes a few appearances overseas, the guys will begin their North American trek on April 28 at the Tampa Bay Times Forum in Tampa, FL. The tour will make stops in Pittsburgh, Milwaukee and Nashville, and also includes performances at Ohio's Rock on the Range festival, Oklahoma's Rocklahoma festival and the 2012 ShipRocked cruise.
P.O.D.'s as-yet-untitled album is set to be released sometime this summer.
Here are the tour dates:
4/28 -– Tampa, FL, 98Rockfest @ Tampa Bay Times Forum
4/29 -– Jacksonville, FL, Metropolitan Park
4/30 -– Mobile, AL, Soul Kitchen
5/3 -– Pittsburgh, PA, The Altar Bar 9
5/4 –- Virginia Beach, VA, Lunatic Luau @ Farm Bureau Live
5/5 –- Rockingham, NC, Rockingham Speedway
5/6 –- Baltimore, MD, Rams Head Live
5/8 –- Lancaster, PA, Chameleon Club
5/9 –- Poughkeepsie, NY, The Chance
5/11 –- Traverse City, MI, Ground Zero @ The Streeters Center
5/12 –- Libertyville, IL, Austin's Fuel Room
5/13 –- Boone, IA, Lazerfest 2012 @ Central Iowa Expo
5/16 –- Milwaukee, MI, The Rave
5/17 –- Flint, MI, The Machine Shop Concert Lounge
5/19 –- Columbus, OH, Rock On The Range @ Columbus Crew Stadium
5/20 –- Maryland Heights, MD, Verizon Wireless Amphitheater
5/22 –- Asheville, NC, The Orange Peel
5/23 –- Nashville, TN, Cannery Ballroom
5/24 –- Memphis, TN, New Daisy Theater
5/25 –- Pryor, OK, Rocklahoma festival
5/27 –- El Paso, TX, 27th Annual KLAQ Balloon Festival at Wet & Wild Waterworld
8/2 –- Midland, TX, Rock The Desert
11/27 -– Ft. Lauderdale, FL, ShipRocked 2012
Copyright 2012 ABC News Radio