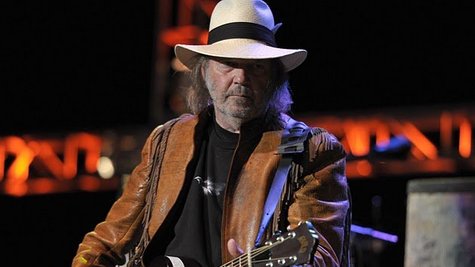 On Saturday, Neil Young posted a 37-minute video on his official website that features new audio of the folk-rock great jamming out with his longtime backing group Crazy Horse . During the clip, a handheld camera pans around a recording studio while a master tape plays an instrumental version of his old songs "F***in' Up" and "Cortez the Killer," as well as snippets of other unidentified tunes. According to a credit line posted Sunday on the webpage, the video -- titled "Horse Back" -- features music recorded on January 6 that was engineered by John Hanlon with help from Mark Humphreys and John Hausman .
The video was shot by Ben Johnson , the son of the late Larry "L.A." Johnson -- a longtime Young friend and collaborator. The footage captures a variety of recording equipment, instruments and gear, as well as lyric and chord sheets to a number of songs that haven't appeared on any known release from Young. Titles include "Clementine," "Gallows Tree," "Love + Wall," "Oh My Darling," "Oh Susanna," "Ontario" and "This Land Is Your Land."
As previously reported by the Thrasher's Wheat fan site, Young revealed during a January 23 Q&A event at the Slamdance Film Festival that he recently had finished a new album with Crazy Horse and was working on a second.
Copyright 2012 ABC News Radio