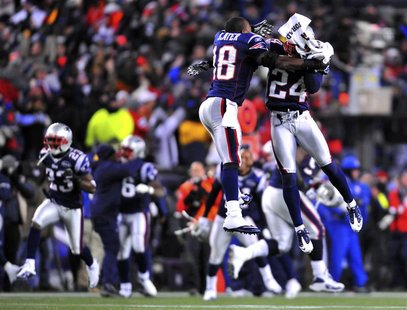 By Larry Fine
FOXBOROUGH, Massachusetts (Reuters) - The New England Patriots may be the National Football League's most successful team over the last decade but they rejoiced like first-time winners after reaching the Super Bowl with a 23-20 victory over the hard-hitting Baltimore Ravens on Sunday.
The victory avenged a 33-14 home loss to the Ravens in the playoffs two years ago and lifted the Patriots to their first Super Bowl appearance in four years.
"We're hungry and very passionate about what we do," said defensive tackle Vince Wilfork, who wreaked havoc against the Ravens' offensive line, stuffing run attempts and harassing opposing quarterback Joe Flacco throughout the game.
"That is the good thing about this team. This team never gives up. I don't care what the score may look like, this team never gives up and that is a championship team."
New England and quarterback Tom Brady won three championships in four years from 2002 and again in 2008, when they were denied an undefeated season by the New York Giants.
They have had playoff disappointments in each of the last two seasons, but they were not to be denied in front of their home fans at Gillette Stadium on Sunday.
"We knew the Ravens were going to play physical. We knew that. We had to match their intensity and I think we did a great job of that tonight," said Wilfork.
Said linebacker Jerod Mayo: "It is such a great feeling. We finally got something done and hopefully we get something done one more time."
The Ravens took a 17-16 lead in the third quarter on a touchdown pass by Flacco and upped it to 20-16 on a field goal.
Fellow linebacker Brandon Spikes, who picked off a Flacco pass in the fourth quarter, said: "I'm speechless. My team mates fought the whole game, for 60 minutes. We fell down but we got back up and that is what makes it so good."
Two-time Super Bowl MVP Brady did not have his best game, going without a touchdown pass and tossing two interceptions, but the quarterback came through in the clutch.
Brady extended the ball over the goal line when he dove over the line on a fourth-and-one in the fourth quarter for what proved to be the game-winning touchdown.
"We're always going to fight to the end," said Brady. "It's great to be a part of a team like this. It's tough to get here, man. It's hard to win these games."
Asked about getting to play in his fifth Super Bowl in 11 years, Brady said: "It's incredible. You pinch yourself to get this opportunity.
"I'm privileged to be part of an incredible organization (and) to play with a great group of team mates."
(Reporting by Larry Fine; Editing by Frank Pingue)