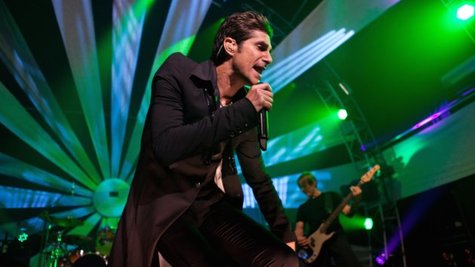 Jane's Addiction is gearing up to hit the road to support their latest album, The Great Escape Artist . In a recent interview with Rolling Stone , frontman Perry Farrell gave fans an idea of what they expect from the intimate theater concerts. "The style of the show is what I'm calling Twenties surrealist with a Sixties, [ Andy ] Warhol pop twist," revealed Farrell. "I'm going through old archival films and finding some crazy stuff, like 1920s stag films."
Farrell added the audience has a part to play at the upcoming shows as well. "We want to do immersive theater," explained the singer. "I want the audience members to dress…with that Twenties surrealist twist if they can, or at least like they're going to a prom, because they're going to be within the show itself."
The frontman said that he expects the band's Theatre of the Escapists tour to last two years, during which time Jane's Addiction will release another studio album. "What I have not seen before is a group that's done a record, had somewhat of a theme -- escapism -- and then done a second record almost as if it was a follow-up movie," said Farrell. "We have material left from The Great Escape Artist we didn't record. I'm very inspired to keep with the theme. Something's feeling right about it."
Jane's Addiction's tour kicks off on February 22 at The Pageant in St. Louis, MO.
Copyright 2012 ABC News Radio