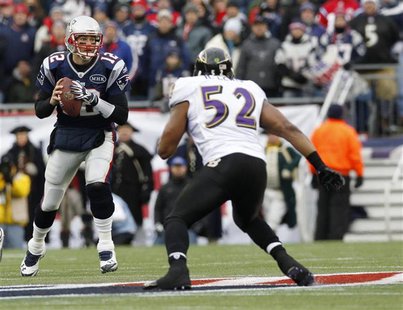 By Simon Evans
INDIANAPOLIS (Reuters) - The New England Patriots know from experience that protecting quarterback Tom Brady from the marauding New York Giants pass rush is absolutely central to the outcome of Sunday's Super Bowl.
Four years ago, Brady was sacked five times as the Patriots lost to the Giants in the National Football League's title game and he says that was a lesson learnt.
"They have a very good pass rush. I've seen it game after game this year," Brady told reporters on Wednesday.
"They can get to the quarterback, they can hit the quarterback, force the quarterback into bad decisions and some bad throws.
"We're going to try to eliminate those. We really can't afford many of those on Sunday. We had too many of those last time we played them and we're not going to be able to win the game making mistakes".
While Brady was better protected in this year's regular season clash between the two rivals, the one time he was sacked led to a fumble and a Giants touchdown on the next play.
"The better job you do protecting him, the better chance you have to win. Hopefully he doesn't need much laundry work on his jersey," said Patriots guard Logan Mankins.
Overall, Brady has been pretty well protected this season by his offensive line and was sacked just once in the two playoff games.
But the Giants offer something few teams can match, with defensive ends Jason Pierre-Paul, Osi Umenyiora, Justin Tuck making up the core of a rotating system that has proven very effective at getting to the quarterback, sometimes featuring four specialist pass rushers.
The man charged with masterminding the protection of Brady, assistant head coach Dante Scarnecchia, the Patriots offensive line coach, told Reuters that New York have a multi-dimensional approach.
"If they can get you off your spot and get an edge and run by you, they will do that, if they can't they'll go into power rush moves, but they are always working, always trying to get to the launch point and they do a great job," he said.
"The players that they have are exceptional and I think that is the number one thing. They use a lot of bodies, use people in multiple places, they are playing really, really well and a really high level. They know it and everyone in the league knows it."
Head coach Bill Belichick says the team have tried in practice to simulate how the Giants pass rush operates but concedes it is a tough process.
"Their ends are a combination of power, speed and athleticism. We try to move our guys around a little bit and get them to play like the Giants play. I don't know if anyone can play like the Giants play."
(Editing by Julian Linden)