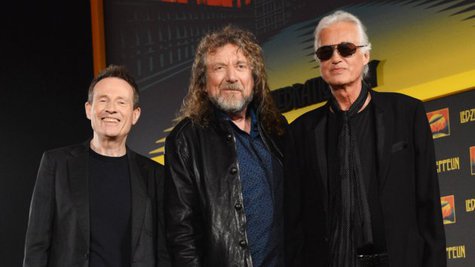 The surviving members of Led Zeppelin spent a whole lotta quality time together in 2012, although they still left fans wanting more. Robert Plant , Jimmy Page and John Paul Jones didn't get together to perform or record, but rather to celebrate the last time they did play together -- at London's O2 Arena in December 2007. In the fall of this year, the hard-rock icons finally got around to releasing the reunion show as a concert film, DVD and album under the title Celebration Day .
The old band mates walked the red carpet at premiere screenings of the flick in New York City on October 9 and London on October 12. They also shared a podium at press events in both cities, but bristled when questioned about whether they'd consider reuniting again as a musical entity. Plant even labeled one reporter a "schmuck" when he pressed the singer for an answer. In an interview conducted around the same time as the Celebration Day premiere, Page revealed that he, Jones and Jason Bonham -- who filled in on drums for his late father, John Bonham -- all were prepared to continue with the reunion following the O2 show, but Plant was more interested in continuing with his then-current Americana project with Alison Krauss .
On December 3, Plant, Page and Jones gathered together again, this time in Washington, D.C., where President Obama and a host of celebrities toasted them for their musical achievements at the 2012 Kennedy Center Honors. The event featured a star-studded Led Zeppelin tribute that included performances by Heart 's Ann and Nancy Wilson , The Foo Fighters , Lenny Kravitz , Kid Rock , Jason Bonham and more.
Looking to 2013, all of the Zeppelin members appear to have a busy year ahead of them. Page is planning to begin performing again with some as-yet-unnamed musicians, and he's also preparing expanded versions of Led Zeppelin's studio albums for release. Plant has spring tour dates lined up in Singapore, Australia and New Zealand with his latest project, The Sensational Space Shifters . He also continues to work with his recent Band of Joy collaborator and significant other, Patty Griffin . Jones, meanwhile, has ongoing collaborations with Norwegian avant-garde group Supersilent and veteran British psych-folk artist Robyn Hitchcock .
Copyright 2012 ABC News Radio