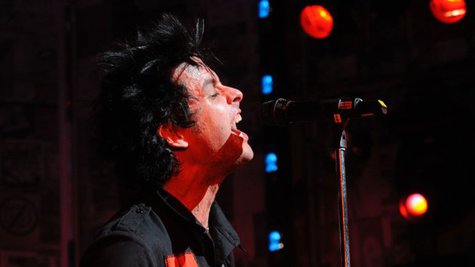 2012 turned out to be an interesting year for Green Day .
While the band pleasantly surprised fans by releasing a trilogy of albums, ¡Uno! , ¡Dos! , and ¡Tré! , frontman Billie Joe Armstrong shocked the world with an angry outburst during a September music festival performance in Las Vegas. Armstrong stopped a song in mid-performance and delivered a profane protest against the band's performance time allegedly being cut short, repeatedly referring to a countdown clock that read "one minute." Armstrong declared, "Let me show you what one f**kin' minute f**kin' means," then smashed his guitar into the stage floor until it broke, after which he left the stage.
Shortly after the incident, Armstrong apologized for his behavior and announced that he would to be heading to rehab to seek treatment for "substance abuse." The singer's stay in rehab forced the band to cancel its headlining slot at the Voodoo Music + Arts Experience in New Orleans, along with a number of tour dates in 2012. In addition, Green Day postponed a series of shows that the guys had mapped out for January and February in 2013. To make up for the cancellations, the band pushed up the release date of their third album in the trilogy, ¡Tré! , from January 15, 2013 to December 11.
Green Day is expected to return to the road in 2013. The band's next scheduled performance is at Emirates Stadium in London, England on June 1.
Copyright 2012 ABC News Radio