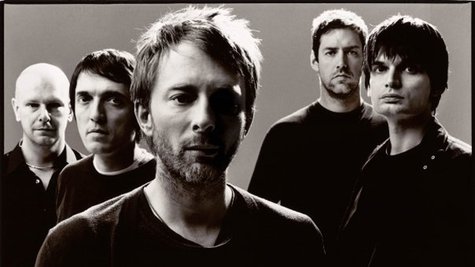 Six years after Radiohead performed one of its most memorable concerts at the 2006 Bonnaroo Music and Arts Festival in Manchester, Tennessee, a fan has posted a downloadable version of the complete show online, all but challenging the band to shut him down.
The 28-song performance included early versions of several songs that would eventually appear on Radiohead's 2007 album In Rainbows, such as "15 Step," "House of Cards," "Weird Fishes/Arpeggio" and "Bodysnatchers," and has become famous among Radiohead fans. Shortly after the gig Thom Yorke reportedly told the BBC that it was one of his favorite-ever Radiohead shows and that it would be released on DVD.
That release has yet to arrive. But the fan who posted the show writes on his website RadioheadBonnaroo.com , "This website will not need to exist for long, because as soon as I post these songs, they will spread across the internet and then I can take them down and give my server a rest." He claims to be a mastering engineer who worked on cleaning up the sound on the recordings for months -- having been given a soundboard tape of the show from someone working the board.
"After two months of wrangling, I finally came up with a mix that I loved," he writes. "Of course, they could tell me to take it down any moment, so I would download the files as soon as possible."
No action yet from the band but fans are already recirculating the material, with ConsequenceOfSound.com posting additional links to the material and calling it, "the best gift before year's end."
Copyright 2012 ABC News Radio