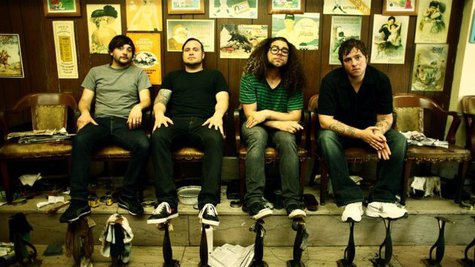 Frontman Claudio Sanchez has grown as a songwriter since Coheed and Cambria released their first album in 2002, The Second Stage Turbine Blade . The singer says that he feels the band's new double album , The Afterman , is a great example of how his songwriting process has evolved.
" Amory Wars , the original Coheed saga…that's like me playing with my action figures," the singer tells ABC News Radio. "That's me trying to do something like a Star Wars if you will. But Afterman to me feels certainly more mature in terms of my writing where the emotions are really more the forefront of the story as opposed to the sci-fi epicness."
Sanchez adds that one of highlights of making The Afterman was connecting with the band's new bassist, Zach Cooper . Cooper replaced former bassist Michael Todd , who left the band last year shortly after his July 10 arrest in Attleboro, MA. Todd was charged with armed robbery for confronting a pharmacist with a bomb threat in order to acquire a quantity of the drug Oxycontin.
"I think [working with Cooper] was like the biggest treat because for the last couple of records I felt like there might have been a void," Sanchez reveals. "Though those records are very much a statement to the band and how we've endured all the adversity…I just felt complete with this new team."
The second installment of Coheed's double album, The Afterman: Descension , will be released on February 5. You'll get your first chance to hear the new songs performed live when the band kicks off the next leg of their North American tour. That outing begins on February 4 at the 9:30 Club in Washington, D.C. Visit CoheedAndCambria.com to view the full itinerary.
Copyright 2012 ABC News Radio