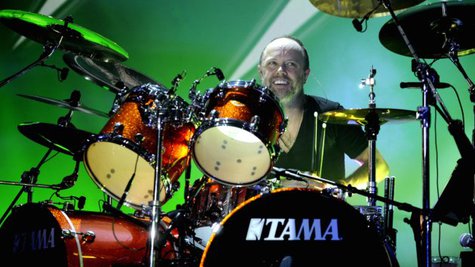 Metallica is now recording a new CD tentatively scheduled to be released in 2014, and drummer Lars Ulrich says the band does "crazy" things in order to maintain longevity and avoid boredom.
Ulrich told the U.K.'s Metal Hammer , "That's why we do crazy s**t like [the 2004 documentary] Some Kind of Monster and the 3D movies. We throw ourselves these challenges. It's to make sure that boredom never sets in."
The drummer adds that keeping things mentally fresh helps keep the band going after 31 years, but sometimes he does worry about the physical nature of being in a band like Metallica.
"We will always have the strength to do it mentally, so I'm not worried about that," he says, "But if there ever comes a time when we feel that it's not going on all 12 cylinders [physically], then I hope that we have the guts to walk away from it."
The still-untitled CD will be released on Metallica's new Blackened Recordings label. Last week, the band announced that its second Orion Music Plus More Festival will be held in June 8 and 9 in Detroit.
Copyright 2012 ABC News Radio