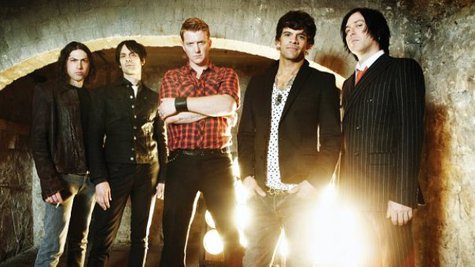 Scissor Sisters frontman Jake Shears may be contributing his talents to Queens of the Stone Age 's upcoming album.
Shears tweeted a picture of himself and members of QOTSA on Thursday with the message , "Jake Shears + Queens of the Stone Age = satanic cabaret." The Scissor Sisters singer offered further proof that he's collaborating with the band, tweeting another picture the next day featuring Shears with QOTSA frontman Josh Homme along with the message , "After singing together for awhile, Josh Homme and I settled down to watch some educational films. #newQueensOfTheStoneAgeAlbum"
If Shears is working with the band on their new release, he'll join previously announced guest stars Nine Inch Nails frontman Trent Reznor , Foo Fighters frontman/former Nirvana drummer Dave Grohl and former QOTSA bassist Nick Oliveri .
A title and release date for the forthcoming album has yet to be announced.
Copyright 2012 ABC News Radio