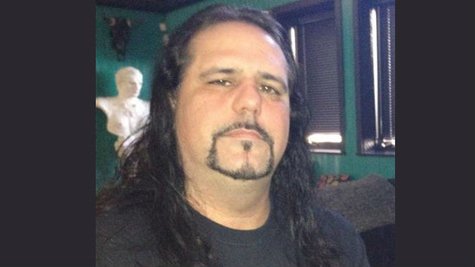 Ministry guitarist Mike Scaccia has died at the age of 47. The Fort Worth Star-Telegram is reporting that Scaccia was pronounced dead by a medical examiner early Sunday morning. The cause of death was listed as "a sudden heart attack brought on by a heart disease." The guitarist apparently suffered a seizure Saturday night while performing with his other band, Rigor Mortis , as part of frontman Bruce Corbitt 's 50th birthday party at the Rail Club in Fort Worth, TX.
Scaccia began his professional career a guitarist for Rigor Mortis from 1983 until 1989, when Ministry frontman Al Jourgensen asked him to join the group. While the guitarist appeared on four of Ministry's albums -- 1992's Psalm 69 , 1996's Filth Pig , 2004's Houses of the Molé , and their latest, Relapse -- he didn't always tour with the band.
In a statement on Ministry's Facebook page , Jourgensen wrote, "I just lost my lil' brother and my best friend…Mikey was not only the best guitar player in the history of music, but he was a close, close, close part of our family – and I just lost a huge chunk of my heart today. I have no words to express what this guy meant to me, my family, my career…Everything!"
Copyright 2012 ABC News Radio