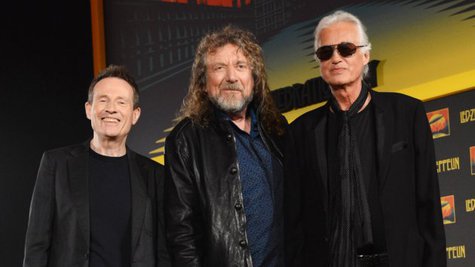 Led Zeppelin 's three surviving members, Robert Plant , Jimmy Page and John Paul Jones , recently sat down for a interview with Charlie Rose that aired Friday on CBS This Morning . During the chat, the TV journalist took a crack at getting the rock legends to discuss the possibility of reuniting again.
Rose asked why the group didn't go on tour following the band's 2007 reunion show in London, to which Plant replied, "You have to be creative and imaginative and move on. And I think the great essence of Led Zeppelin is the creativity and the imagination of each individual project. And a project is…not just going back and visiting the past. It's moving forward."
The singer added, "I don't see us being a stadium act, going round and round playing the hits."
Rose continued to press Plant, pointing out that the frontman had reportedly been the one member in the band who didn't want to continue the reunion. In response, Robert said, "I want to do great creative things, and these guys are my buddies, my friends -- we're soul partners in a big creative chuck of our lives together. But, it's ever onward, and it's not the be-all and end-all of everything. It's just what we love."
Rose then got off that subject, and asked the band mates whether they thought that when Led Zeppelin was in its heyday that it was "the greatest band alive."
Answering diplomatically, Plant said, "I think everybody's good -- that's why they do it."
Page, meanwhile, talked about how strong each member of the band was, and how nicely each element of the group wove together. He added, "I would say, without being conceited here…yeah, it was the best band."
Copyright 2012 ABC News Radio