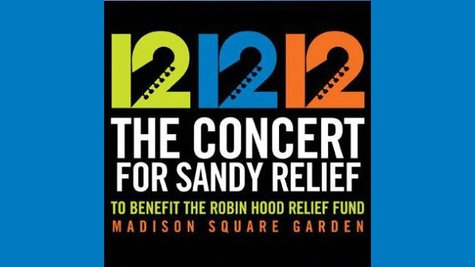 The track list has been revealed for the digital album featuring performances from last week's star-studded benefit show at New York City's Madison Square Garden, 12.12.12 -- The Concert for Sandy Relief . Nearly every artist who hit the stage at the event is represented on the 24-song collection, which costs $12.99 and is expected to be released on Wednesday, according to iTunes.
Among the famous musicians appearing on the album are Paul McCartney , The Rolling Stones , The Who , Bruce Springsteen and the E Street Band , Eric Clapton , Billy Joel , Roger Waters and Bon Jovi . Highlights include Waters' duet with Pearl Jam singer Eddie Vedder on a version of Pink Floyd 's "Comfortably Numb," and Coldplay frontman Chris Martin 's onstage collaboration with R.E.M. 's Michael Stipe on the latter group's hit "Losing My Religion."
Noticeably absent from the album are McCartney's surprise performance with the surviving members of Nirvana and any song from rap star Kanye West 's set.
Like the show itself, proceeds from sales of the 12.12.12 -- The Concert for Sandy Relief album will benefit the Robin Hood Relief Fund. The organization provides money, materials and information to charitable groups that are helping families and areas severely affected by Hurricane Sandy.
Here is the full track list of the album:
"Land of Hope and Dreams" -- Bruce Springsteen and the E Street Band
"Wrecking Ball" -- Bruce Springsteen and the E Street Band
"Another Brick in the Atlantic Wall" -- Roger Waters
"Us and Them" -- Roger Waters
"Comfortably Numb" -- Roger Waters (featuring Eddie Vedder),"
"Hallelujah (Sandy Relief Version)" -- Adam Sandler & Paul Shaffer
"It's My Life" -- Bon Jovi
"Wanted Dead or Alive" -- Bon Jovi
"Got to Be Better in a Little While" -- Eric Clapton,
"Crossroads" -- Eric Clapton,
"You Got Me Rocking" -- The Rolling Stones
"Jumpin' Jack Flash" -- The Rolling Stones
"No One" -- Alicia Keys
"Who Are You" -- The Who
"Baba O'Riley" -- The Who
"Love Reign O'er Me" -- The Who,
"Miami 2017 (Seen the Lights Go Out on Broadway)" -- Billy Joel
"Moving Out (Anthony's Song)" -- Billy Joel
"You May Be Right" -- Billy Joel
"Viva La Vida" -- Chris Martin
"Losing My Religion" -- Chris Martin (featuring Michael Stipe)
"Us Against the World" -- Chris Martin
"Helter Skelter" -- Paul McCartney
"Empire State of Mind" -- Alicia Keys
Copyright 2012 ABC News Radio