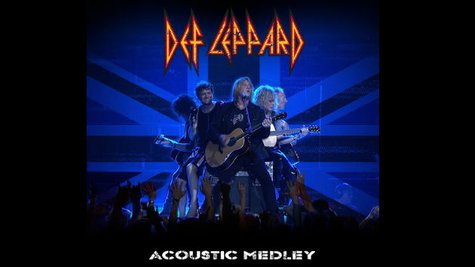 Def Leppard has released a medley of acoustic performances of five of their songs as a digital download , exclusively via iTunes. Dubbed "Acoustic Medley," the seven-minute-plus track, which costs $1.29, includes segments of the tunes "Where Does Love Go When It Dies," "Now," "When Love and Hate Collide," "Have You Ever Needed Someone So Bad" and "Two Steps Behind." All of the songs were featured on various albums the band released during the 1990s and early 2000s. Def Leppard has been playing "Acoustic Medley" as part of a set on their recent tour.
"We decided to change the acoustic section of the set for the Rock of Ages tour, and what we ended up with just grew into a really magical experience every night," frontman Joe Elliott tells Noisecreep about the medley. "We all enjoyed doing it so much and it was so well received by our audience, we decided to do a studio recording of it."
Def Leppard's next scheduled gigs will be their previously reported Las Vegas residency at The Joint at Hard Rock Hotel & Casino, during which the veteran rockers will perform their classic 1987 album, Hysteria , in its entirety. The band's Viva Hysteria! shows will run from March 22 to April 10.
Copyright 2012 ABC News Radio