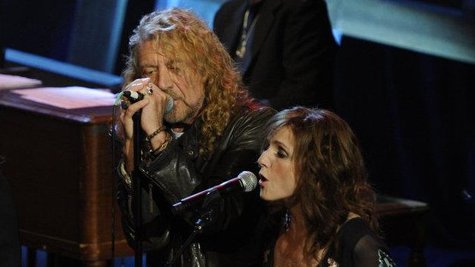 Robert Plant made a surprise appearance at an intimate show by his significant other Patty Griffin in Austin, Texas, on Saturday. RollingStone.com reports that the Led Zeppelin singer joined his Band of Joy collaborator about a half-hour into her set and remained for the rest of the performance, which took place at Austin's Continental Club.
In welcoming Plant to the stage, Griffin jokingly introduced him as her "driver." She then explained, "Three years ago a guy with big hair and a British accent called me and said he needed help singing on their record. I followed him on the road for 18 months and after it all he said he'd be my driver."
Once Plant hit the stage, the two singers duetted on various songs from their respective solo careers, as well as on a number of Led Zeppelin tunes. Among the latter were rootsy, reworked renditions of "Black Country Woman," "What Is and What Should Never Be," "Tangerine," "Going To California" and "Black Dog."
The concert was the first of two Griffin and Plant scheduled to raise money for Michael Fracasso , a friend of Griffin's who recently was injured in a car accident, as well as to benefit the Health Alliance for Austin Musicians program.
Copyright 2012 ABC News Radio