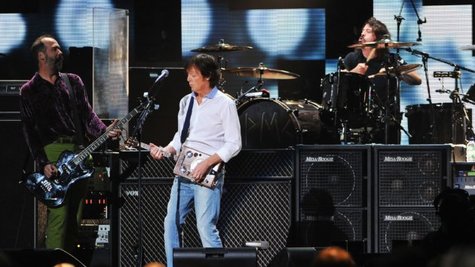 Over the weekend, Paul McCartney treated fans to a second live rendition of "Cut Me Some Slack," his new collaboration with the surviving members of Nirvana , when the Beatles legend and the grunge veterans performed the tune on Saturday Night Live . Now, you can hear the entire studio version of the track on YouTube . The song, which is the lead single from the soundtrack to former Nirvana drummer Dave Grohl 's upcoming documentary, Sound City -- Real to Reel , is available for purchase now as a digital download.
McCartney, along with Grohl, founding Nirvana bassist Krist Novoselic and ex-Nirvana touring guitarist Pat Smear , debuted the tune last Wednesday at the star-studded 12.12.12 Hurricane Sandy relief benefit show at New York City's Madison Square Garden.
In case you missed Sir Paul's SNL appearance, he also played two other songs during the show and participated in one sketch. Early in the program, he sang his Kisses on the Bottom tune "My Valentine," with help from his regular backing group, plus some guitar accompaniment from The Eagles ' Joe Walsh . To close out the episode, Macca was featured in a tongue-in-cheek segment in which he and host Martin Short played a somewhat hapless musical duo who were auditioning for a Christmas pageant. At the end of the sketch, McCartney hit the stage for a festive rendition of his holiday classic "Wonderful Christmastime" that also featured a children's choir.
Copyright 2012 ABC News Radio