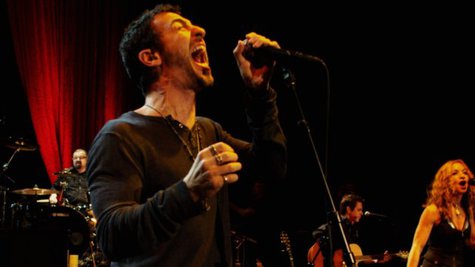 Godsmack frontman Sully Erna will release his solo live CD/DVD package, Avalon Live , on Tuesday. The release features 14 tracks which were recorded during Erna's solo concert on December 16, 2011 at The Wilbur Theatre in Boston. The singer says he decided to release the set because he's proud of the tracks from Avalon , which he had been saving for years.
"Throughout the years, sometimes you just stumble onto some stuff that you feel is really beautiful music or something that you want to represent but it's not quite right for the band and so I would just kind of store it away," he tells ABC News Radio. "I just knew we had something a little bit more special than we thought we were gonna have when we were just trying to put a project together."
Sully adds that while Godsmack is currently on hiatus, he's already begun working on new material for a second solo album. "I have a small handful of music right now that I've been working on and completed," he reveals. "Because what I do want to do is keep people on their toes and I want to continue to experiment myself with different sounds and I don't think it's gonna sound like Avalon , but in the end who knows, you know? I don't know what it's gonna be like."
In addition to the standard CD/DVD release, a limited edition box set featuring five DVDs and two CDs will also be available. It includes audio and video of the concert as well as a 40-minute behind-the-scenes documentary, a DVD of bloopers and outtakes of Erna in the studio, along with a number of videos from Avalon .
The package also contains some extra goodies, such as a limited edition T-shirt, hat, guitar pick, poster, coffee table book, commemorative backstage pass and custom Sully Erna necklace. Plus, each box set you buy will enter you into a "Golden Ticket" contest where you can win an all-expense-paid trip with the singer to Las Vegas, New York, Avalon Catalina Island, Napa and Boston. Other prizes include autographed guitars, custom hand drums and handwritten lyrics. Only 5,000 copies of the box set will be offered for sale.
Copyright 2012 ABC News Radio