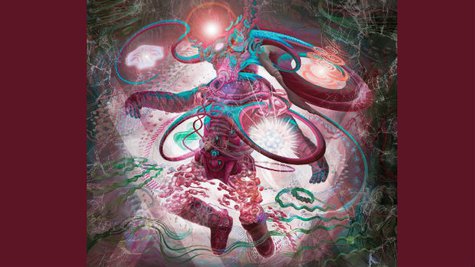 Coheed and Cambria has released new details about the second part of their concept album, The Afterman . The Afterman: Descension will feature nine tracks and continues the storyline from the first installment of the double album, The Afterman: Ascension .
In addition, the band has unveiled the artwork for The Afterman: Descension . It's very similar to the cover art for The Afterman: Ascension , created by Heidi Taillefer , which is a sketch of "The Afterman" being pulled apart by "five entities" surrounding him.
You'll get your first chance to hear the new songs performed live when Coheed and Cambria kick off the next leg of their North American tour. That outing begins on February 4 at the 9:30 Club in Washington, D.C. Visit CoheedAndCambria.com to view the full itinerary.
Here's the track list for The Afterman: Descension :
"Pretelethal"
"Key Entity Extraction V: Sentry the Defiant"
"The Hard Sell"
"Number City"
"Gravity's Union"
"Away We Go"
"Iron Fist"
"Dark Side of Me"
"2's My Favorite 1"
Copyright 2012 ABC News Radio