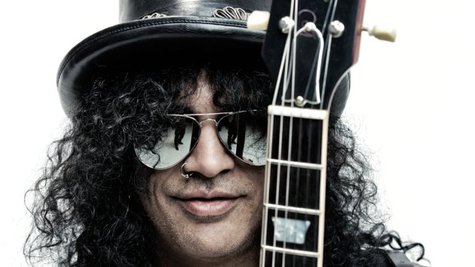 Never let it be said that Slash is suffers from the same condition as a certain former Gun N' Roses bandmate. Unlike Axl Rose , who took 15 years to finally get Chinese Democracy finished, Slash seems to be a virtual music-making machine.
Via Twitter , the guitarist reports that he's in "the final stretch" of the score for Nothing to Fear , the first project being produced for his new movie production company, Slasher Films. "It is sounding awesome," Slash said on December 11, "and is getting more fiercely intense as we get to the end of the pic."
Two days before, Slash said that in addition to his film scoring, he's about to start going through "all of the new song ideas that came up over the last [eight] months." A source close to Slash tells ABC News Radio that "unlike many other 'guitar gods' out there, Slash has a lot of creative focus. He's always making new music, always experimenting. He spend more time [than other guitarists] just recording new stuff while on the road [so he can go back and use it later]."
That's not to say that all those tales of his crazy days in GNR aren't true; the source also tells ABC News Radio that Slash's work habits have "improved as he's gotten older. He [is much more diligent] about that stuff than he used to be."
Slash's commitments have also grown. Besides the film producing, scoring and starting to sift through solo material, Slash recently signed on to the first-ever Ozzfest Japan, set to descend upon the Makuhari Messe arena, just outside of Tokyo, on May 11 and 12, 2013.
Slasher Films' Nothing to Fear tells the story of a family dealing with supernatural forces in a Kansas town that, legend has it, is located above one of the seven gateways to Hell. Look for it in theaters next year.
Copyright 2012 ABC News Radio