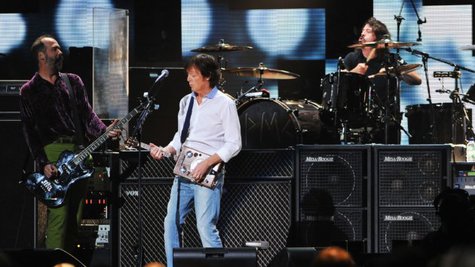 One of the highlights of Wednesday night's 12.12.12 -- The Concert for Sandy Relief undoubtedly was Paul McCartney 's onstage collaboration with the surviving members of Nirvana : Dave Grohl , Krist Novoselic and their touring guitarist, Pat Smear . Now, new details have emerged about "Cut Me Some Slack," the new song the unlikely collective of musicians performed at the star-studded benefit show at New York City's Madison Square Garden.
According to PaulMcCartney.com , a studio version of the tune was recorded earlier in 2012 at Grohl's home studio, and it will appear on the soundtrack to his upcoming documentary, Sound City . The film, which profiles Los Angeles' legendary Sound City Studios, features appearances by a wide variety of rock stars, including Metallica drummer Lars Ulrich , Nine Inch Nails singer Trent Reznor , Slipknot / Stone Sour frontman Corey Taylor and Queens of the Stone Age singer Josh Homme .
"When I first called Paul to see if he would come and jam with us, none of us wanted to a Beatles song or a Nirvana song, we wanted to do a new song," Grohl tells Fuse in a video interview. "So we wrote and recorded a new song in a day and it's heavy as f**k." A brief audio clip of the version of "Cut Me Some Slack" that will be featured in Sound City can be heard online at CutMeSomeSlack.net .
Sound City will premiere at the 2013 Sundance Film Festival, which takes place January 17-27 at several locations in Utah. The movie gets its official release on February 1.
Copyright 2012 ABC News Radio