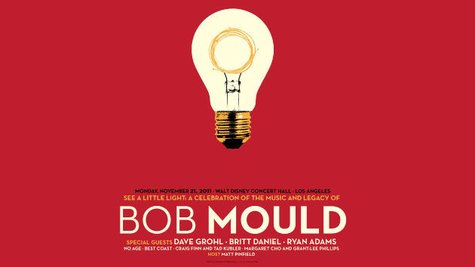 Bob Mould is very close to bringing last year's tribute show, See a Little Light: A Celebration of the Music and Legacy of Bob Mould , to your TV screen. Last month, the punk pioneer and former Hüsker Dü frontman launched an account on Kickstarter.com , a website on which people can pledge money for creative projects, to raise money so he could release the show on DVD.
The event, which took place on November 21, 2011 at Walt Disney Concert Hall in Los Angeles, featured a number of artists performing songs from Mould's entire career. The star-studded lineup included Dave Grohl from Foo Fighters , Spoon 's Britt Daniel , Ryan Adams , Jessica Dobson of The Shins and Craig Finn and Tad Kubler of The Hold Steady , among others.
Bob Mould's wishlist budget of $95,000 is 80 percent pledged, and it's not too late to help him meet the goal by the December 22 deadline. For a $40 pledge, you'll receive a digital and physical copy of the See A Little Light DVD, and a specially-designed light bulb T-shirt. The incentives become greater the more you pledge, right on up to an autographed poster by all the event's performers and a personalized thank-you note from Mould himself.
If you're the type who wants to know exactly where your pledge money will be going -- or anything else that's burning your brain to ask Bob Mould -- you can talk to the man himself via Reddit.com this Monday, December 17, at 1 p.m. ET.
Mould has also announced some new tour dates for early 2013:
2/26 -- New York, NY, Bowery Ballroom
2/27 -- New York, NY, Bowery Ballroom
3/1 -- Toronto, ON, Horseshoe
3/2 -- Detroit, MI, Magic Stick
3/8 -- Brisbane, AUS, The Zoo
3/9 -- Sydney, AUS, Factory Theatre
3/10 -- Sydney, AUS, Factory Theatre
3/12 -- Adelaide, AUS, Fowlers Live
3/13 -- Melbourne, AUS, Corner Hotel
3/15 -- Melbourne, AUS, Corner Hotel
3/16 -- Perth, AUS, Rosemount
Copyright 2012 ABC News Radio