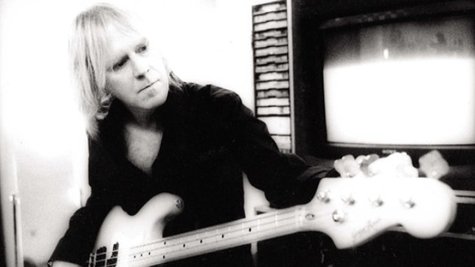 Aerosmith bassist Tom Hamilton apparently is considering joining the growing ranks of rockers who have penned books about their lives. The 60-year-old musician would be the fourth member of the group to write an autobiography: singer Steven Tyler 's Does the Noise in My Head Bother You? came out last year, drummer Joey Kramer released Hit Hard in 2009 and guitarist Joe Perry recently revealed via Twitter that his own memoirs are scheduled to be published in November.
Hamilton tells Zoiks! Online that he may begin focusing on compiling his book while the band has some downtime from touring during the first half of 2013.
"I think maybe there is some perspective that I could bring to it that may not have been covered by the other three," he notes. "I'll have to get myself into a disciplined pattern of writing every day and I'll see what I come up with."
The rocker says he plans to draw from the many journal entries that he's written over the years.
"I have a ton of that…and piles of notebooks that I need to spend some time with," he explains, "sitting down, reading, and compiling and seeing what's there and seeing if I can finish it off into something that people would be interested in reading."
Copyright 2012 ABC News Radio