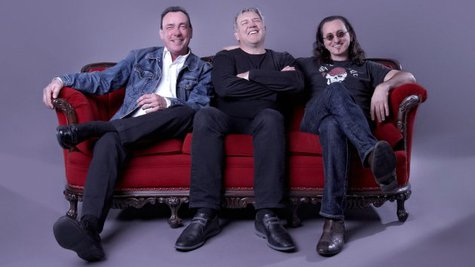 Rush has long been considered among the most worthy eligible artists that had been overlooked by the Rock and Roll Hall of Fame. That all changed on Tuesday morning, when the Canadian prog-rock trio were announced as one of the six acts that will be inducted into the hallowed institution in the performer category at the 2013 ceremony, which takes place April 18 in Los Angeles.
Rush frontman Geddy Lee spoke with Rolling Stone on Tuesday after finding out about the honor, and admitted that being recognized by the Rock Hal hadn't been a priority for him.
"My emotions are very simple and always have been about the Hall of Fame. It's something that I had absolutely nothing to do with and had no control over, so I never thought much about it," he explained. He added that although he "appreciated how much it meant to our fan base," getting inducted was something "I really did not concern myself with."
The singer/bassist pointed out that he still was proud about being acknowledged by the Rock Hall and Rush definitely will be attending the event.
"I think it's a terrific honor and we'll show up smiling," he declared.
As for his opinion about the other artists who will be inducted alongside Rush -- Heart , Albert King , Randy Newman , Donna Summer and Public Enemy -- he said the Class of 2013 was "a nice group," while expressing his displeasure about one particular omission.
"I am disappointed that Deep Purple is not included in that group," he said. "Certainly Heart and Rush would not sound the way we sound without Deep Purple."
Copyright 2012 ABC News Radio