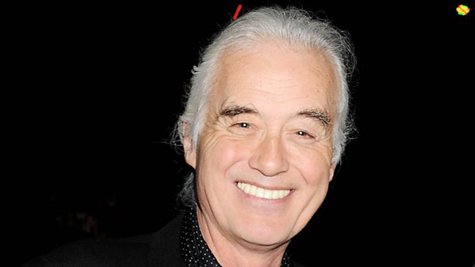 Prior to the avalanche of promotional events surrounding Celebration Day , the new video and audio collections capturing Led Zeppelin 's December 2007 reunion concert at London's O2 Arena, guitarist Jimmy Page had pretty much been keeping out of the public eye. However, Blabbermouth.net reports that in a new interview with Guitar World , the rock legend reveals that he's planning to mount a solo tour before the end of 2013.
Page told the magazine that he'd initially expected to be "playing by now in a live outfit," but -- apparently because of the release of Celebration Day -- those plans "have to be postponed [until the] tail end of next year."
He added, "I definitely want to be [performing live again]."
Page also reiterated that he doesn't think Zeppelin will reunite for any more shows, while giving a few details about the band members' aborted plans to work on new material following the O2 concert.
"After the [reunion concert] was done, [drummer] Jason [ Bonham ], myself and [bassist] John Paul Jones felt it was the right thing to do to go in and start playing new material and see how we were getting on," Page pointed out. "We had a few things together, but [singer] Robert [ Plant ] had his Alison Krauss project [ Raising Sand ] to promote."
As for whether he and his band mates had considered bringing in another singer after it became apparent that Plant wasn't interested in taking part, the guitarist noted that there was some discussion, "but that would have changed the character of what we were doing, and done it rather suddenly."
Page said if they had moved forward with another vocalist, he envisioned the band playing Led Zeppelin tunes as well as "some really, really good new material…to knock people's socks off."
Copyright 2012 ABC News Radio