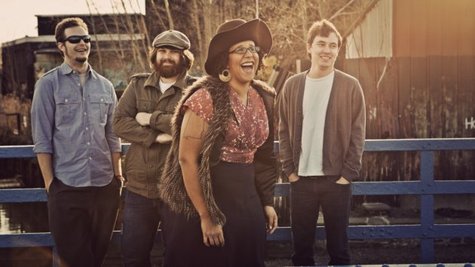 Rolling Stone magazine has released its annual lists of the 50 Best Albums and Songs of 2012, and the list -- perhaps not surprisingly -- is heavy with rockers.
On Rolling Stone 's list of 50 Best Songs of 2012 , Alabama Shakes takes the #1 slot with their single, "Hold On." The magazine applauds frontwoman Brittany Howard 's vocal work on the track, describing her as a singer who "reincarnated the ghost of Sixties rock and soul without resorting to ove-rsinging histrionics or bald imitation."
Passion Pit trails just two steps behind at #3 with "Take a Walk," while Jack White scores the #8 slot with "Sixteen Salteens." fun. 's "Some Nights" came in at #11, Fiona Apple 's "Hot Knife" scored the #12 spot, Mumford & Sons ' "I Will Wait" is #13, and Van Halen got the #16 slot for "Stay Frosty." Farther down the line we find The Lumineers ' "Ho Hey" at #27, Grizzly Bear in at #29 for "Yet Again," and Muse at #37 for "Madness."
A number of the same artists appear in the list of the mag's 50 Best Albums of 2012 . Jack White scores the #3 spot on the tally with his debut solo album, Blunderbuss , while Fiona Apple's The Idler Wheel… is at #5. Rounding out the top 10 is Edward Sharpe and the Magnetic Zeros ' latest, Here , at #7 and Green Day 's ¡Uno! in at #8.
Meanwhile, Mumford & Sons doesn't trail far behind, coming at #11 with their sophomore album, Babel . Dave Matthews Band scored the #29 slot for Away from the World , while Alabama Shakes takes the #34 spot for their debut album, Boys & Girls and Grizzly Bear comes in #35 with Shields .
Passion Pit appears on the list at #39 for Gossamer , and fun. takes the #43 spot for Some Nights . At the bottom of the list we find Garbage at #44 for Not Your Kind of People , Muse at #46 for The 2nd Law , Smashing Pumpkins at #49 for Oceania , and Dirty Projectors at #50 for Swing Lo Magellan .
The magazine's #1 album of the year is Bruce Springsteen' s Wrecking Ball.
Copyright 2012 ABC News Radio