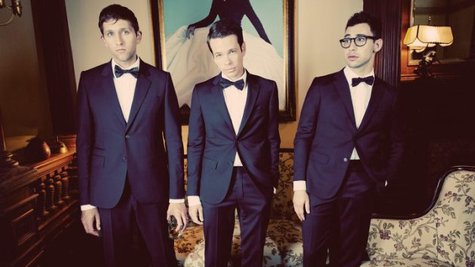 It was a fun night for fun. on Wednesday, when the nominations for the 2013 Grammy Awards were announced.
On the strength of their smash hit "We Are Young," the pop-rock band earned a leading six nominations. Dan Auerbach of The Black Keys , Jay-Z , Mumford & Sons , Frank Ocean , and Kanye West also earned six.
fun. is nominated in each of the four biggest categories: album of the year, for Some Nights ; record of the year and song of the year, for "We Are Young"; and best new artist.
There's a decent chance that a rock artist will win album of the year. Aside from fun.'s disc, the nominees include The Black Keys' El Camino , Mumford & Sons' Babel , and Jack White 's Blunderbuss .
The Black Keys are also a contender for record of the year, for "Lonely Boy." Though Auerbach has six nods, The Black Keys as a group have five.
Nominations in select categories were revealed during a one-hour CBS special, Grammy Nominations Concert Live!!!, hosted by Taylor Swift and LL Cool J in Nashville.
The program also featured performances by some of the newly-minted nominees as well as other prominent artists. They included:
-- Dierks Bentley and The Band Perry : the Johnny Cash - June Carter song "Jackson," in a tribute to The Man in Black.
-- Maroon 5 : "One More Night," "Moves Like Jagger," "Daylight" and "Payphone."
-- The Who : "Won't Get Fooled Again."
-- Luke Bryan : "I Don't Want This Night to End."
-- fun. featuring Janelle Monae : "We Are Young."
-- Ne-Yo : "Let Me Love You (Until You Learn To Love Yourself)."
The 55th Grammy Awards will be held in Los Angeles on February 10, 2013. CBS will televise the ceremony.
A full list of nominees is available on Grammy.com . Here are the nominees in the notable categories:
Album of the Year
The Black Keys, El Camino
fun., Some Nights
Mumford & Sons, Babel
Frank Ocean, Channel Orange
Jack White, Blunderbuss

Record of the Year
The Black Keys, "Lonely Boy"
Kelly Clarkson, "Stronger (What Doesn't Kill You)"
fun. featuring Janelle Monae, "We Are Young"
Gotye featuring Kimbra, "Somebody That I Used to Know"
Frank Ocean, "Thinkin Bout You"
Taylor Swift, "We Are Never Ever Getting Back Together"

Song Of The Year [awarded to songwriter]
"The A Team," Ed Sheeran, songwriter (Ed Sheeran)
"Adorn," Miguel Pimentel, songwriter (Miguel)
"Call Me Maybe," Tavish Crowe, Carly Rae Jepsen & Josh Ramsay, songwriters (Carly Rae Jepsen)
"Stronger (What Doesn't Kill You)," Jörgen Elofsson, David Gamson, Greg Kurstin & Ali Tamposi, songwriters (Kelly Clarkson)
"We Are Young," Jack Antonoff, Jeff Bhasker, Andrew Dost & Nate Ruess, songwriters (fun. featuring Janelle Monae)

Best New Artist
Alabama Shakes
fun.
Hunter Hayes
The Lumineers
Frank Ocean
Best Pop Vocal Album
Kelly Clarkson, Stronger
Florence + the Machine, Ceremonials
fun., Some Nights
Maroon 5, Overexposed
Pink, The Truth About Love

Best Pop Solo Performance
"Set Fire To The Rain (Live)," Adele
"Stronger (What Doesn't Kill You)," Kelly Clarkson
"Call Me Maybe," Carly Rae Jepsen
"Wide Awake," Katy Perry
"Where Have You Been," Rihanna

Best Pop Duo/Group Performance
"Shake It Out," Florence + The Machine
"We Are Young," fun. featuring Janelle Monae
"Somebody That I Used To Know," Gotye featuring Kimbra
"Sexy And I Know It," LMFAO
"Payphone," Maroon 5 and Wiz Khalifa

Best Traditional Pop Vocal Album
Christmas , Michael Bublé
A Holiday Carole , Carole King
Kisses On The Bottom , Paul McCartney

Best Rock Performance
"Hold On," Alabama Shakes
"Lonely Boy," The Black Keys
"Charlie Brown," Coldplay
"I Will Wait," Mumford & Sons
"We Take Care Of Our Own," Bruce Springsteen

Best Hard Rock/Metal Performance
"I'm Alive," Anthrax
"Love Bites (So Do I)," Halestorm
"Blood Brothers," Iron Maiden
"Ghost Walking," Lamb Of God
"No Reflection," Marilyn Manson
"Whose Life (Is It Anyways?)," Megadeth

Best Rock Song
"Freedom At 21," Jack White
"I Will Wait," Mumford & Sons
"Lonely Boy," The Black Keys
"Madness," Muse
"We Take Care Of Our Own," Bruce Springsteen

Best Rock Album
El Camino , The Black Keys
Mylo Xyloto , Coldplay
The 2nd Law , Muse
Wrecking Ball , Bruce Springsteen
Blunderbuss , Jack White

Best Alternative Music Album
The Idler Wheel Is Wiser Than The Driver Of The Screw And Whipping Cords Will Serve You More Than Ropes Will Ever Do , Fiona Apple
Biophilia , Björk
Making Mirrors , Gotye
Hurry Up , We're Dreaming , M83
Bad As Me , Tom Waits

Best R&B Performance
"Thank You," Estelle
"Gonna Be Alright (F.T.B.)," Robert Glasper Experiment Featuring Ledisi
"I Want You," Luke James
"Adorn," Miguel
"Climax," Usher

Best Traditional R&B Performance
"Lately," Anita Baker
"Love On Top," Beyoncé
"Wrong Side Of A Love Song," Melanie Fiona
"Real Good Hands," Gregory Porter
"If Only You Knew," SWV

Best R&B Song
"Adorn," Miguel
"Beautiful Surprise," Tamia
"Heart Attack," Trey Songz
"Pray For Me," Anthony Hamilton
"Refill," Elle Varner

Best Urban Contemporary Album
Fortune , Chris Brown
Kaleidoscope Dream , Miguel
Channel Orange , Frank Ocean

Best R&B Album
Black Radio , Robert Glasper Experiment
Back To Love , Anthony Hamilton
Write Me Back , R. Kelly
Beautiful Surprise , Tamia
Open Invitation , Tyrese

Best Rap Performance
"HYFR (Hell Ya F***ing Right)," Drake Featuring Lil' Wayne
"N****s In Paris," Jay-Z & Kanye West
"Daughters," Nas
"Mercy," Kanye West Featuring Big Sean, Pusha T & 2 Chainz
"I Do," Young Jeezy Featuring Jay-Z & André 3000

Best Rap/Sung Collaboration
"Wild Ones," Flo Rida featuring Sia
"No Church In The Wild," Jay-Z & Kanye West featuring Frank Ocean & The-Dream
"Tonight (Best You Ever Had)," John Legend Featuring Ludacris
"Cherry Wine," Nas Featuring Amy Winehouse
"Talk That Talk," Rihanna featuring Jay-Z

Best Rap Song
"Daughters," Nas
"Lotus Flower Bomb," Wale Featuring Miguel
"Mercy," Kanye West featuring Big Sean, Pusha T & 2 Chainz
"The Motto," Drake featuring Lil' Wayne
"N****s In Paris," Jay-Z & Kanye West
"Young, Wild & Free," Snoop Dogg & Wiz Khalifa featuring Bruno Mars
Best Rap Album
Take Care , Drake
Food & Liquor II: The Great American Rap Album, Pt. 1 , Lupe Fiasco
Life Is Good , Nas
Undun , The Roots
God Forgives, I Don't , Rick Ross
Based On A T.R.U. Story , 2 Chainz

Best Country Solo Performance
Dierks Bentley, "Home"
Eric Church, "Springsteen"
Ronnie Dunn, "Cost of Livin'"
Hunter Hayes, "Wanted"
Blake Shelton, "Over"
Carrie Underwood, "Blown Away"

Best Country Duo/Group Performance
"Even If It Breaks Your Heart," Eli Young Band
"Pontoon," Little Big Town
"Safe & Sound," Taylor Swift & The Civil Wars
"On The Outskirts Of Town," The Time Jumpers
"I Just Come Here For The Music," Don Williams featuring Alison Krauss
Best Country Song
"Blown Away," Carrie Underwood
"Cost Of Livin'," Ronnie Dunn
"Even If It Breaks Your Heart," Eli Young Band
"So You Don't Have To Love Me Anymore," Alan Jackson
"Springsteen," Eric Church

Best Country Album
Uncaged , Zac Brown Band
Hunter Hayes , Hunter Hayes
Living For A Song: A Tribute To Hank Cochran , Jamey Johnson
Four The Record , Miranda Lambert
The Time Jumpers , The Time Jumpers
Copyright 2012 ABC News Radio