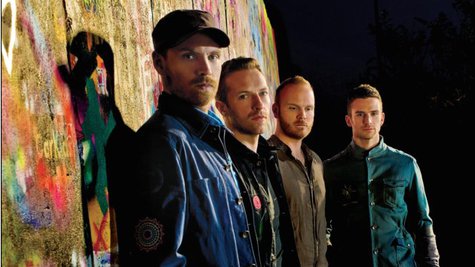 Coldplay has raised over $800,000 for charity by selling a number of pieces created by the band and their artist-in-residence, Paris , for their latest album, Mylo Xyloto .
According to OK! magazine, the piece that scored the most cash was a large graffiti-covered wall that was featured on the cover of Mylo Xyloto . It was sold on Monday to "an anonymous bidder from the Far East" for $653,000 at auction. Prints of the Mylo Xyloto artwork signed by the band, as well as exclusive photographs from the band's current world tour raised an additional $176,000. All proceeds from the sales will support the charity organization Kids Company .
The band took to their Twitter account to thank fans for their support, tweeting , "Take a bow Coldplay fans. An incredible £610,000 raised so far from the Mylo art sale."
Frontman Chris Martin will continue his charity efforts next week. He's scheduled to perform at 12.12.12 -- The Concert for Sandy Relief , which will raise money for those affected by Hurricane Sandy. The event, which takes place on December 12 at Madison Square Garden in New York City, will also feature performances by Bon Jovi , Eric Clapton , The Who , Paul McCartney , Bruce Springsteen & the E Street Band , Billy Joel , Alicia Keys , Kanye West , Pearl Jam frontman Eddie Vedder , Roger Waters and Foo Fighters lead singer Dave Grohl .
Copyright 2012 ABC News Radio